[accessally_icon post_id='14606' target='same' width="150px" height="150px"]
[accessally_icon post_id='39' target='same' width="200px" height="200px"]
[progressally_progress_bar width="100%" height="35"]
[progressally_objectives]
[progressally_youtube_video id='1' youtube_id='ZANmfWWkdYo' width='700' height='400' ]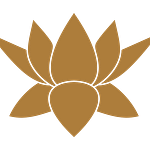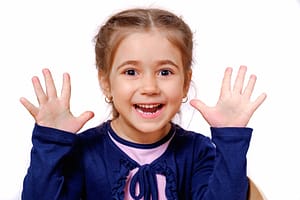 Visste du at "lekelatter" er like effektivt som naturlig latter?
Derfor kan du like godt late som: "Fake it till you make it."
Visste du at barn smiler rundt fire hundre ganger om dagen, og at de ler rundt tre hundre ganger om dagen?
Å smile er like viktig som å le, og kanskje viktigere, fordi det er så lett å gjøre det. Barn gjør det hele tiden. Voksne smiler kanskje rundt tyve ganger om dagen, og noen smiler ikke i det hele tatt.
Et smil påvirker hjernen på samme måte som latter, og i tillegg påvirker det hvordan andre oppfatter oss. En person som smiler, virker mye mer selvsikker og trygg på seg selv. Dessuten er både smil og latter smittsomt.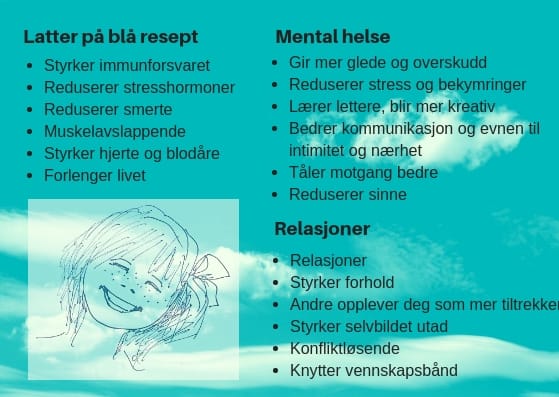 MER HER ... (klikk på navnet for å lese artikkelen)
The Humor in Therapy: the Healing Power of Laughter.
Amici P.
Psychiatr Danub. 2019 Sep;31(Suppl 3):503-508.
PMID: 31488780 Review.
Humour and laughing in patients with prolonged incurable cancer: an ethnographic study in a comprehensive cancer centre.
Buiting HM, de Bree R, Brom L, Mack JW, van den Brekel MWM.
Qual Life Res. 2020 Sep;29(9):2425-2434. doi: 10.1007/s11136-020-02490-w. Epub 2020 Apr 6.
PMID: 32249383
The purpose and function of humour in health, health care and nursing: a narrative review.
McCreaddie M, Wiggins S.
J Adv Nurs. 2008 Mar;61(6):584-95. doi: 10.1111/j.1365-2648.2007.04548.x.
PMID: 18302600 Review.
Harsh humour: a therapeutic discourse.
McCreaddie M.
Health Soc Care Community. 2010 Nov;18(6):633-42. doi: 10.1111/j.1365-2524.2010.00936.x.
PMID: 20561075
Humor theories and the physiological benefits of laughter.
Wilkins J, Eisenbraun AJ.
Adv Mind Body Med. 2009 Summer;24(2):8-12.
PMID: 20664150
Laughter-inducing therapies: Systematic review and meta-analysis.
van der Wal CN, Kok RN.
Soc Sci Med. 2019 Jul;232:473-488. doi: 10.1016/j.socscimed.2019.02.018. Epub 2019 Mar 5.
PMID: 31029483 Free article. Review.
Woodbury-Fariña MA, Antongiorgi JL.
Psychiatr Clin North Am. 2014 Dec;37(4):561-78. doi: 10.1016/j.psc.2014.08.006. Epub 2014 Nov 25.
PMID: 25455066 Review.
[Surprise me!--humour as a biological phenomenon II].
Raab T.
Ugeskr Laeger. 2008 Dec 15;170(51):4211-2.
PMID: 19128548 Danish.
Therapeutic clowning in paediatric practice.
Finlay F, Baverstock A, Lenton S.
Clin Child Psychol Psychiatry. 2014 Oct;19(4):596-605. doi: 10.1177/1359104513492746. Epub 2013 Jul 12.
PMID: 23855014 Review.
Laughter and humor as complementary and alternative medicines for dementia patients.
Takeda M, Hashimoto R, Kudo T, Okochi M, Tagami S, Morihara T, Sadick G, Tanaka T.
BMC Complement Altern Med. 2010 Jun 18;10:28. doi: 10.1186/1472-6882-10-28.
PMID: 20565815 Free PMC article.
[accessally_course_navigation prev_button='Previous' next_button='Next']